Welcome to Play Gin Rummy Online home. Where you can learn of industry changes and latest places to play rummy and other card games online.
Gin Rummy Has a Long History
The game of Rummy which has been around for some time, and especially played in homes for recreation purposes is by no means a hard game to muster. However in order to play professionally it is essential to listen to good advice from experienced players as well as observe the body language of your opponents and utilize other sources of information that can increase your chance of winning.
Many Ways to Play
Each variation of Rummy has its own rules and strategies, the process of the game is similar in all the versions – each round is made up of Three main stages which is drawing a card, arranging the cards in series and discarding a card.
The main objective of all versions of Rummy is to be the first player who finishes all the cards in his/her hand. This can be done by obtaining cards either of the same denomination or in sequence in the same suit. Although this is a general rule, when playing with partners you would have to be vigilant. You need to be aware of your partners situation before going out. Going out when your partner has a heavy hand could result in your demise.
Playing Gin Rummy Online is Very Social
Rummy games are social skill-based card games which opens a window to online chat. Besides the intellectual challenge, a great part of the game's enthusiastic atmosphere is rooted in the players' interaction. In order to maximize your online Rummy experience, you will find a number of rules that will apply when in chat – these rules for accepted behavior makes everyone's life easy and enjoyable.
You may call these rules etiquette, protocol, manners, grooming, cross-cultural sensitivity or whatever else. Of course, each of them has a specific meaning and plays a specific part in a situation, but all of these words are related to acceptable, appreciable behavior – thus making everyone's Rummy experience memorable.
Next Big Event
Currently the next big even we know that is scheduled in gin rummy is the WSOGR. That's correct the World Series of Gin Rummy is set for June 1st through the 4th 2023. The event is scheduled to take place at the Horseshoe in Las Vegas.
We wonder how many players are planning to play gin rummy online to hone their skills in preparation for the event.
Places to Play Gin Rummy Online
There are a number of places to play many different types of rummy and other card games online. One of the casinos we currently recommend where you can play 3 Card Rummy online is Bet Online. They have the version of 3 card rummy from Betsoft.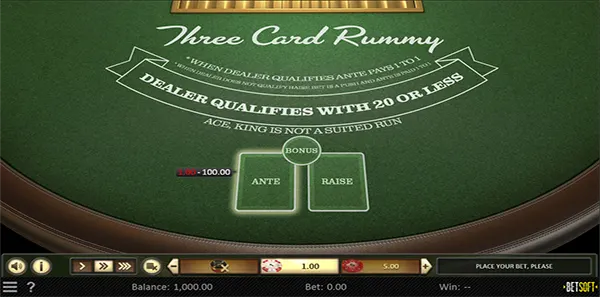 Looking for the Lotto results?