Although not exactly the same style game as gin rummy, recently the casino table card game of Three Card Rummy has become extremely popular.
This game is also often referred to as Vegas three card rummy and is scored different then 3 card poker.
Why is This Popular?
In most cases this game has become so popular because it is more readily available in more casinos.
Because gin rummy, canasta and most other forms of rummy take so long to complete, very few casinos have the games available. Even the casinos that have very large poker rooms and large tournaments rarely will feature rummy tournaments. There are some rare exceptions when a casino will use rummy as a loss leader to draw in new players.
Overall, for most casinos, it is just too high of an overhead in staffing, the tournament room and tables and time factor, they just can't collect enough rake to make it profitable. In order to make it worthwhile, they would have to charge too high of a rake, and players just would not pay it.
Three Card Rummy as an Alternative
An alternative to standard rummy in a casino players may choose to play 3 card rummy.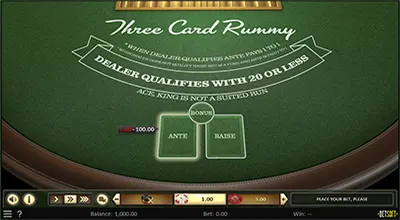 How is 3 Card Rummy Played?
You play three-card-rummy against the dealer. Winner is determined by who has the lowest point total at the end of the hand.
For the dealer's hand to qualify, it must score 20 or lower, if it score higher, the player wins the hand.
Card score count is as follows.
Ace is counted as 1
Face cards are counted as 10
Number cards are counted as per their number
Two or 3 cards of the same rank count as 0
Two or 3 cards of the same suit in order count as 0
How is Three Card Rummy Dealt?
Before the deal starts you must first ante. During the initial deal, 3 cards are dealt face up to the player and face down to the dealer.
After the hand is dealt, you may choose to raise the bet or fold.
Is There Any Strategy for 3 Card Rummy?
We have provided the basics of game play and how the game is dealt. For more detailed game strategy of three card rummy see our strategy tips here.
What Software Providers Have Three Card Rummy?
There are a number of different software providers that currently have 3 Card Rummy. We will update the list as more release casino versions of the rummy game.
Betsoft
RTG (RealTimeGamin)
Microgaming
Nucleous Gaming
More Coming Soon
Where Can 3 Card Rummy be Played?
The below casinos that have high paying three card rummy are not a full list but a few of our top choices.